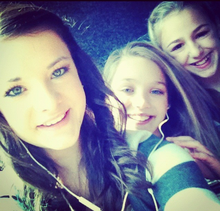 I was flipping through the channels on television one day before I changed it to the TV Guide to see what was on. While I was looking, I saw a marathon of a show called "Dance Moms" and wondered what the heck that could be, so I turned it to that channel and watched it with my mom. I've been addicted ever since, but I think it's because of the dances and maybe just a little because of the girls -- they're too adorable, and they're good dancers!
I was on the internet one day with nothing to do, so I searched "Dance Moms wiki" to see if it had one, and it does, so I'm gonna help with editing and adding more stuff to it! I put some information on pages, and I was going to check out the episodes to make sure I had it right, but now I can't because I can't find any of the episodes on Youtube anymore [insert frowny face], so I don't know what I'm gonna do. Hopefully they get put back up soon! 
March 18, 2012
I don't remember when I was chosen as admin, but I was very surprised and accepted immediately! Now I'm trying to make this an awesome wikia like the others I go to, but I'm new at this, so it's taking me awhile. Thank goodness for Google!
I managed to change the wiki navigation, so there are now categories of "Dancers," "Dance Moms Cast," and "Episodes," but I'll be changing it up until I find a look a like; I just put those there for the benefit of newcomers who wouldn't be sure of where to go.
April 6, 2012
I'm trying to get more plots and quotes on the episodes, but, like I've said, there aren't that many "Dance Moms" episodes on youtube. The ones that are there, however, I'll try and get right on!
July 31, 2012
Dance Moms: Miami Season One Groups
Get Dirty: 1st place (jazz)
City Boy: 1st place (jazz)
Insecurities: 5th place (contemporary)
Wipe Them Out: 1st place (contemporary)
Battle For Supremacy: 1st place (contemporary)
Twisted Circus: 1st place (open)
Devastated: 1st place (contemporary)
Celebrities: 3rd place (jazz)
To use as a reference later.
Birthdays
My favorite pages